I started this project in July 2015. The fabric is from a line called La Petite Ecole by French General for Moda. This is from my disturbingly full collection of charm packs that I built up over a few years of belonging to the charm pack club offered by the Fat Quarter Shop.
This is one of those projects that starts with an idea that begins to morph. I cut the tumblers with one ruler, then switched to another ruler. In the end I'm proud of the effort. I cut and pieced this top in my dining room because we were in the middle of the move from one house to another. My travel machine did me proud and didn't miss a beat.
This polka-dot fabric is perfect as binding. I love a polka-dot binding, or a stripe, or scrappy. Okay, I like fabric.
The backing for this fabric was a print I found on the discount shelf at a cute little quilt shop in Annapolis, MD, called
Cottonseed Glory
. The shop is full from floor to ceiling with bolts of fabric and wonderfully helpful and supporting staff. If you're in the area, I recommend you drop in to say hello and pick up some fabric. Their buy-10-get-1 fat quarter deal will be my downfall one day.
I pulled this perfectly coordinating thread from my growing collection of
So Fine 50
from
Superior Threads
.
The quilting for this throw-size quilt was the super-simple meander. Sometimes this is just so perfect.
Binding attached and the back signed with a date and my name. And it all took only eight months to finish. That's pretty quick!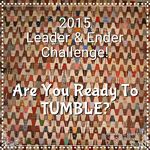 Want to make your own tumbler quilt and join a great community of makers? Check out
Bonnie Hunter's blog Quiltville
and her
Tumbler leader-ender challenge
.