Just like the last few years,
Bonnie Hunter
is sharing her annual mystery quilt on her blog
Quiltville
. This year it is called
En Provence!
I participated the last couple years with Grand Illusion and then Allietare and really enjoyed the process. Last week I shared my progress on clue #1 and clue #2.
This week was more 4-patch blocks. If you've come by way of link party just know that my colors are not the colors Bonnie picked. Check out the links above to clue #1 and clue #2 to see more of my fabric choices.
I stacked all the bits in the bin. It sure is filling up fast!
If you want to know more about this quilt you should head over to
Quiltville
.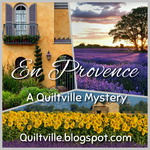 You can find the link party on Quiltville, too.
Day 14 of the
31 Day Blog Writing Challenge
.