Just like the last few years,
Bonnie Hunter
is sharing her annual mystery quilt on her blog
Quiltville
. This year it is called
En Provence!
I participated the last couple years with Grand Illusion and then Allietare and really enjoyed the process. I've shared my weekly progress on clue #1, clue #2, clue #3, and clue #4.
I didn't have as many usable widths of my print lights. Plenty of fabric, just not many of the prints left. Fewer than ten of these units will be made with print neutral fabric, the majority will be white-on-white. My preference would have been to have cut the wider strips from these fabrics before cutting the narrower strips. I would have gotten more distance from the fabrics I purchased. My goal now is just to make sure I don't have too much of the white-on-white left over since I don't use it very much in my projects.
This was a quick clue with fewer units than the last few clues. Stitched up and ready for pressing!
All the units are pressed, counted, and set aside for the next step. These are such fun projects.
If you want to know more about this quilt you should head over to
Quiltville
.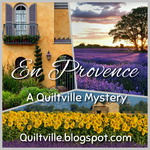 You can find the link party on Quiltville, too.
Day 28 of the
31 Day Blog Writing Challenge
.